The NMTC has delivered over $1 billion in financing to 40 community development projects in Georgia's Fifth Congressional District, represented by Civil Rights legend John Lewis. We thought we would take a moment and highlight a few.
Chris 180 Center of Excellence
This project consists of several components: new construction of a building which will allow CHRIS 180 to expand its behavioral health clinical training program; renovations at an existing drop-in facility to integrate primary medical and dental services; and the acquisition and rehabilitation of five houses which provide a supportive, therapeutic family environment for children while preparing for adoption.
Atlanta Community Food Bank
Construction of a new 345,000 SF warehouse and distribution facility in EastPoint, GA. The expansion is projected to increase their distribution of food tolow income communities by 100%. The new facility is strategically located to improve logistics and supply chain management to meet the needs of individuals facing food insecurity in the 29 counties served.
Atlanta Neighborhood Development Partnership
John O'Callaghan, CEO of Atlanta Neighborhood Development Partnership, saw the opportunity to leverage NMTC dollars as a path to providing a new way of revitalizing communities. "Now that the doors have been opened with New Markets, the plan is to transform neighborhoods through single family homeownership and prove it can be done at increased scale. Success will help ANDP, HPN members and other effective nonprofits to leverage and expand capital to transform more neighborhoods and help more families succeed."
---
Moving in the Spirit – Space to Soar
The project involves acquisition and construction of a 21,500 square foot transit oriented development of a nonprofit arts organization. The facility ("Space to Soar") will include a variety of spaces tailored to the programmatic needs of the organization. The project allows Moving in the Spirit to double its capacity to serve 500 youth annually through dance classes and workshops. Space to Soar also provides work space for human services agencies focused on workforce development training and placement.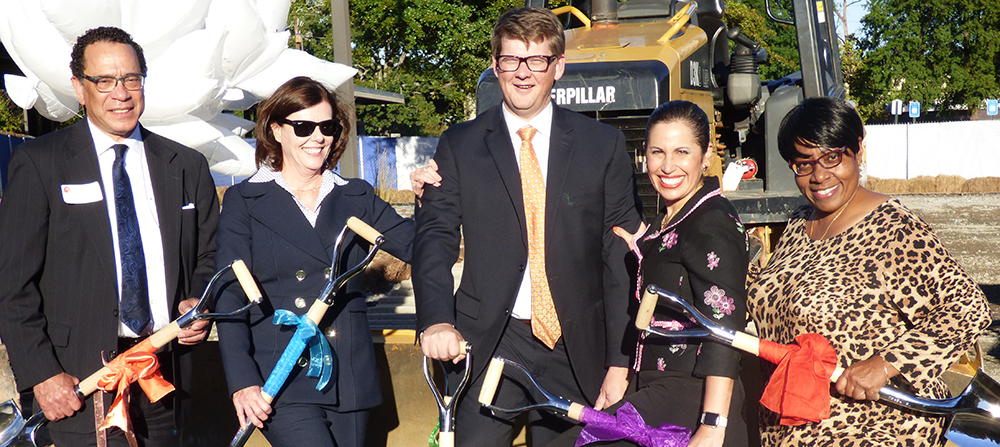 Quest Nonprofit Center for Change
The project involves the construction of a 26,000 square foot Quest Nonprofit Center for Change that will house community and commercial services. Over the past 15 years, Quest has provided extensive housing services to homeless and low-income men and women, but is now expanding their focus to a broader set of challenges facing Atlanta's Westside neighborhood.
Responsive Surface Technology
Responsive Surface Technology, an Atlanta-based Smart Bed and sleep technology innovator, received NMTC financing to expand its marketing and research efforts, and also help it open its first company-owned store in West Midtown.
---
Grady Memorial Hospital – Women and Infant's Center
Renovation of 70,693 SF Women's and Infant's Center of Grady Hospital in Atlanta, GA. Phased renovation of the Second Floor Women Clinics including the Teen Clinic, Prenatal Clinic, Centering Rooms, and Perinatal Center with ultrasound and urodynamics procedure rooms at Grady's Women and Infant's Health Clinic.
Cristo Rey Atlanta High School
New high school facility for Cristo Rey Atlanta, a private Catholic college preparatory high school serving low-income students.
Pittsburgh Yards
In 2017, a $6,500,000 NMTC transaction allocated funds to finance the first phase of development of a business incubator for small businesses in the Pittsburgh neighborhood of Atlanta. Previously a 31-acre industrial site, the vision of this project is to develop an economic catalyst in an area where living-wage jobs and economic opportunities are scarce.
---
YMCA of Metropolitan Atlanta Leadership and Learning Center
YMCA of Metro Atlanta, SunTrust Community Capital and MBS Urban Initiatives CDE have closed the financing for the organization's new headquarters. The 54,400-square-foot building, known as the YMCA Center for Leadership and Learning, will be located in Atlanta's Westside. The center will house YMCA of Metro Atlanta's administrative offices and other functions including a training center for 4,000 regional staff.
Families First Headquarters
An $8.5 million investment to convert a former Atlanta Public Schools building in Atlanta's Westside into the organization's new 38,000 square-foot headquarters.
Sheltering Arms Atlanta
Sheltering Arms, an Atlanta-based nonprofit agency that provides early childhood education, has opened a 27,000-square-foot center at the Barack and Michelle Obama Academy (formerly D.H. Stanton Elementary School) in Peoplestown after raising $8.4 million from the NMTC.
---
Microsoft Innovation Center and Women's Entrepreneurship Center
Renovation of a historic Atlanta landmark (the Flatiron Building) into an entrepreneurship hub and innovation center.
Grady Health Emergency Room
An $8.5 million investment to convert a former Atlanta Public Schools building in Atlanta's Westside into the organization's new 38,000 square-foot headquarters.
Center for Civil and Human Rights
---
Dean Rusk YMCA Head Start Academy
Dean Rusk YMCA Head Start Academy is a child care learning center facility which provides day care services for all children. Children who experience quality early education and child care in Dean Rusk YMCA Head Start Academy in the city of Atlanta receive long term benefits. They have better math, language and social skills as they enter school, and, as they grow older in the county of Fulton, state of Georgia, they will require less special education and will progress further in school. This day care is located in the Atlanta in the county of Fulton, in the state of GA. Several research studies have found that high quality child/day care centers have common characteristics, specially near Atlanta.
Project Community Connections Inc
Project Community Connections, Inc. (PCCI) is a non-profit organization that builds relationships with property owners, government agencies, and community organizations to help clients become self-sufficient, so they can remain stably housed and thrive in all aspects of their lives.